E-commerce has grown rapidly over the years, and with it, the demand for reliable and efficient e-commerce platforms has increased. Choosing the right platform is crucial for the success of any online business, as it can affect everything from user experience to sales and revenue. With so many options available, it can be difficult to decide which e-commerce platform is the best fit for your business needs.
In this blog, we will be exploring the top 3 e-commerce platforms in 2023. We will discuss the key features, advantages, and disadvantages of each platform to help you make an informed decision when choosing the right e-commerce platform for your business.
What makes the best ecommerce website builder?
When choosing an ecommerce platform builder, there are several elements that you should consider to ensure that you choose the right one for your needs. Here are some important factors to consider.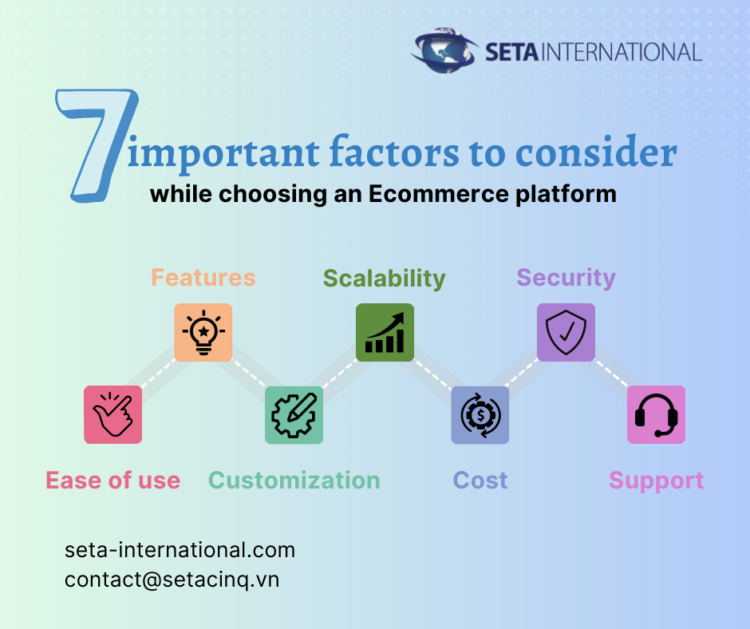 Ease of use: It can be good for you if you have a platform that is easy to use and requires minimal technical expertise to set up and manage. This will save your time and effort significantly. 

Features: Consider carefully the features and functionality that the platform offers, such as payment gateways, shipping options, and inventory management.

Customization: A platform that offers customization options, such as the ability to customize the design and layout gives you more choices for online store design. 

Scalability: Consider whether the platform can grow with your business and handle increased traffic and sales volume.

Cost: Look for a platform that offers pricing plans that fit within your budget, taking into account any transaction fees or other costs.
While we're talking about pricing, it can get a little complicated with eCommerce platforms as they charge a little differently from other services. There are three kinds of fees you may have to pay for an eCommerce website builder:
Monthly fee. This is anything from free to a few hundred dollars and goes straight to the platform. For most of the eCommerce services on this list, expect to pay around $30 for a basic plan.

Payment gateway fees. These are the fees you pay when you process a credit card charge. The normal fee is around 2.9% plus an additional $0.30, although this goes down with volume and higher upfront payments.

Transaction fees. These are another percentage-based fee that's on top of any gateway fees. A lot of eCommerce sites bill themselves as having 0% transaction fees, but this merely means there's no extra charge. Other services charge a 1% or 2% transaction fee if you don't use their gateway.

Security: Consider the security measures that the platform has in place to protect your customers' personal and payment information.

Support: Look for a platform that offers reliable customer support, including access to technical support and documentation.
Below are Top 3 ecommerce platforms in 2023 you should consider before making decisions about which platform is best for you.
Shopify
Shopify is a highly versatile and scalable SaaS solution that is widely known for its ease of use, making it the ideal eCommerce platform for startups. With its ability to enable sales across multiple channels and unify the shopping experience for customers, Shopify is a great choice for businesses looking to expand their online presence.
Shopify allows you to start selling anywhere, whether it be locally through the Point of Sale (POS) system (hardware available as well), on your website, or on several other sales channels like Amazon or eBay. You can also utilize Shopify's suite of APIs to extend the platform's built-in features such as reading and writing merchant data or interoperating with other systems and platforms. Since acquiring the Oberlo plugin, Shopify's dropshipping capabilities have improved significantly, allowing for automated product importing and order fulfillment.
While Shopify's basic functionality is robust, adding Shopify apps to improve its functionality can increase the monthly cost of using the platform and slow down the site's load time. Additionally, Shopify has limited frontend customization options, and most themes require payment. Detailed customization options can be pricey, which may not be feasible for some businesses.
Shopify offers a free 14-day trial period, after which businesses can choose from various plans ranging from Shopify Lite at $9/mo for in-person sales and Buy Button, to three website building plans at $29/mo, $79/mo, and $299/mo. For enterprises, Shopify Plus offers custom pricing plans tailored to businesses' needs.
Big commerce
BigCommerce is a cloud-based eCommerce platform designed for large and international retailers that can handle a high volume of orders, products, or customers in over 100 currencies. Its enterprise-grade marketing tools make it an excellent choice for businesses looking to enhance their SEO.
BigCommerce comes with more built-in features than any other eCommerce platform, reducing the need to add too many apps that can slow down page load time and speed. You can customize every step of the checkout process with the new Checkout SDK or switch to Optimized One-Page Checkout. Additionally, BigCommerce allows you to choose integration with 65 major payment processors at no extra cost, with no transaction fees.
While BigCommerce has robust native features, it could use more third-party apps to expand its capabilities beyond the platform's built-in features. Additionally, cheaper options may be available for businesses looking to sell solely on social media. Lastly, BigCommerce's capabilities can be an overkill for small businesses.
BigCommerce offers a 15-day free trial period, after which businesses can choose from various pricing plans ranging from the Standard plan at $29.95/mo to Plus at $79.95/mo, and Pro at $299.95/mo. The platform also features an automatic upgrade system where stores are upgraded to a new plan if they reach certain sales milestones in a year, up to $50k, $180k, and $400k, respectively. For enterprises, custom pricing plans are available based on online sales.
Magento
Magento is a widely popular eCommerce platform written in PHP code. It caters to medium to large businesses with specific customization needs and boasts advanced inventory and order management features to handle an unlimited number of products.
Magento provides complete freedom and flexibility in terms of design and functionality, as long as you possess coding skills. A vast user community can assist intermediate developers with their queries. With Magento Commerce, businesses get advanced marketing features, targeted promotions, customer reward programs, and 24/7 technical support.
There are no free themes or builders like Wix or Shopify. To obtain a custom design, you need to approach third-party providers. Magento Open Source does not offer customer support or a mobile app. Manual installation of patches and security updates can necessitate the services of a Magento specialist.
Magento Open Source eCommerce platform offers a free software download to install on your own server. If you don't use the Open Source version of Magento, you need to contact the Magento sales team for a custom pricing plan for your company. 
The Magento Commerce price normally ranges from $22,000 to $190,000 per year. The price depends on your revenue. For example, if your average gross sales revenue is between $1million and $5million, you'll pay around $32,000/year. But if your revenue is higher than $25million, then Adobe Commerce will cost you about $125,000/year.
Don't settle for anything less than the best when it comes to your eCommerce development needs. Contact us today to learn how our software solution team can help take your business to the next level with a customized platform.
Our Ecommerce solution
Our e-commerce solution for the retail industry is a comprehensive system designed to meet all of your online retail needs. We offer a complete e-commerce system that includes the sales site, warehousing, logistics, and more. Our system is built from scratch or based on a platform such as Magento, BigCommerce, or Shopify. Additionally, SETA integrates e-commerce platforms with SalesForce, SAP, and Microsoft Dynamic, providing a seamless and efficient e-commerce experience for retailers.
Our services include Ecommerce website design and development, e-commerce multi-store setup and configuration, theme customization, extension development and integration, website performance optimization, SEO and digital marketing, data migration and integration with other systems (ERP, CRM, WMS, PIM, etc.), support and maintenance, training, consulting, and version upgrades and migrations.
Contact us via email address contact@setacinq.vn for more consultation by our expert.