In the period 2020-2021, businesses around the world are experiencing a marked change in their awareness of digital transformation. Especially after the Covid-19 pandemic, digital transformation is gradually becoming a familiar concept and an inevitable trend for development and survival. This term refers to the integration of digital technology into all areas of a business to change its operation fundamentally.
Two concepts related and supported to digital transformation are digitization and digitalization.
Digitization is the process of transforming a physical format to digital version to reduce paper documents and related information. Digitalization is used for utilizing technology to enhance corporate processes to improve business operations such as using chatbots to communicate with clients.
Digital transformation is not specifically about IT or technology. It's about redefining your entire business strategy or creating entirely new models on the backbone of technology, perhaps even changing your corporate culture.
The speed of digital transformation in the world varies from region to region and country to country, depending on the level of technology development and the speed of business model transformation. In particular, the European region is considered to be the region with the fastest digital conversion speed, followed by the US and countries in Asia.
According to Zippia statistics, 70% of organizations either have a digital transformation strategy or are currently working on one. $1.5 trillion was spent on digital transformation globally in 2021. And the number is expected to reach $6.8 trillion by 2023. 
So why do organizations across industries do active digital transformation?
In general it helps businesses to modernize legacy processes, accelerate efficient workflows, strengthen security, and increase profitability. As follows
Automate processes and procedures
One of the most significant advantages of digital transformation is eliminating the tasks that waste the time of employees by automating them. A software solution can automate a manual process to complete a diverse range of tasks such as collecting customer data, sending emails (for example, regarding service or status updates), procurement tasks, invoicing, time tracking, and payroll. Automating tasks doesn't have to be costly thanks to innovative software solutions, helping companies to reduce the risk of their investment in digital transformation
Improve customer experience
 Automating tasks can improve customer and staff experiences in many different ways. For example, by automating the process of responding to support tickets, customers will see much faster turnaround times. Software solutions can bring truly omnichannel support and allow customers to reach you via phone, live chat, email, mobile app, or support forum easily. Since you'll be keeping all of these channels digital, you can offer customers multiple touchpoints, track interactions easily, and improve feedback gathering to provide even better service.
Support for making decisions with data
Since digital tools can collect and process data in real-time, they enable managers to recognize patterns and identify opportunities for improvement easily. Once you implement digital tools and build your business processes around them, you'll enhance your reporting capabilities. Moreover, you won't have to rely on costly and time-consuming manual feedback collection, surveying, or sampling because you can access the right data at any time and from any device. So there's no denying that more relevant and real-time data leads to faster and more accurate decision-making.
Greater agility, flexibility, and scalability
Another advantage of digital transformation is the ability to break free from legacy systems and embrace innovative, scalable alternatives. Some manual processes simply aren't scalable as an increasing number of people need to process claims and service requests or complete other functions. Modern software is easier to integrate so companies can connect different parts of the business and avoid the mistake of siloing data by department or function. Once a task is complete, your solution can connect the data to push the task forward – all completed without any manual intervention. This example illustrates how digital transformation allows organizations to become more agile and responsive to the evolution of customer preferences.
As companies continue to expand and grow, the technology and processes they've relied on for years may not be enough. Backing up, maintaining, and protecting data locked in legacy systems is difficult and costly. Such systems are also prone to failure and more susceptible to cyberthreats. According to a McKinsey report, innovative digital risk management can reduce operating costs for risk activities by 20 to 30%. By upgrading to modern tools, you'll be able to choose from a larger pool of applications who have the experience to support your systems properly.
Creating a productive digital workplace and culture
Another perk of digital transformation is that it provides a great experience not only to customers but employees as well. By introducing innovative digital tools, you can help your workforce become more productive. By investing in digital transformation programs that focus on company culture, you can make your employees fully engaged in the evolution of your business processes, without risking that they feel overwhelmed or disconnected from them.
To sum up the benefits of digital transformation, take a look below.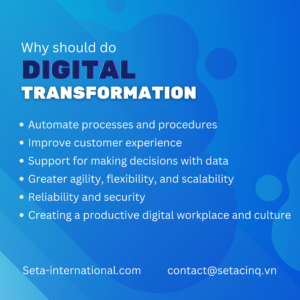 Digital transformation benefits both small and large companies and is unavoidable for businesses that want to survive the next decade on the market.
Are you looking for a team to help you jump-start a digital transformation project? Get in touch with us. We help businesses grow business via digital transformation and innovation.
SETA International is one of the leading software solution providers in Vietnam providing one-stop software development services with high quality, efficiency and competitive cost; and being trusted by international clients for the past 14 years like Amazon, Pfizer, American Airline. We provide IT consultation and IT outsourcing services for AI, VR/AR, IoT, mobile, web and cloud. See more details at seta-international.com.