Besides in-house development, outsourcing is also an option that businesses consider when they want to develop a certain product or service. So what is the difference between in-housing and outsourcing, and which type is better? Let's find out with SETA in this article.
Summary
Outsourcing means that you hire outside resources to help you complete tasks or projects. These may be freelancers or agencies that specialize in performing a particular type of task or project. Advertising, office and warehouse cleaning, and website development are the best examples of outsourcing.
Whereas in-housing (also known as insourcing) refers to an activity or operation that is performed within a company. The firm uses its own employees and time to perform a business activity, such as financing or business-specific tasks.
Let's take an example in the software development industry. When you consider launching an idea or building a software for your business, you can consider two ways. One is to start a plan to build your own team, including management, developers, testers, operators, designers teams or more if needed. And then go to the market with the sales and marketing teams as well. Another way is to find a third party who has expertise in developing software in your industry and they implement it with high performance. With the product taken care of by an IT outsourcing firm, you can focus on core business development for increasing revenue and customer satisfaction.
To make the right decision, it is important to well understand the pros and cons of two types of strategies. Let's check them out to enter the in-house vs outsource debate.  
In-housing: pros and cons
Opting for in-house initiatives provides several advantages that can potentially increase in overall control and efficiency, including:
On-site availability: You can effortlessly interact with your team if you build an in-house team and get prompt answers to your queries. 
Awareness of the business: Employees in your in-house team are employees of your firm. They understand what your organization needs to operate efficiently and successfully.
In-depth knowledge of the systems and setup: The employees develop an in-depth understanding of your systems and setup, allowing them to bypass the onboarding steps and solve problems fast.
Deep understanding of the users: Your crew is well-versed with your company's workers, users, customers, and prospects. They are aware of your organization's goals and key performance metrics.
However, it still has some limitations
High expenses: Insourcing or in-house teams necessitate a significant investment in the recruiting and training process. In addition, due to team expansion, you might have to equip the workplace for each new employee or even rent or buy a new office. 
Absence issues: If any of your team members fall ill or leave the company, you'll have to make significant investments in new hires or deal with project interruptions. This may be troublesome with ongoing development since sickness/leave within your existing staff can jeopardize your project's schedules.
Lack of necessary skills: Your staff cannot be experts in every field. You may not have the resources in-house that have the necessary skill sets to accomplish a specific project effectively. Team member training may be prohibitively time-consuming or very expensive. The time you devote to learning anything new diverts focus away from the things you do well, and your performance may suffer as a result.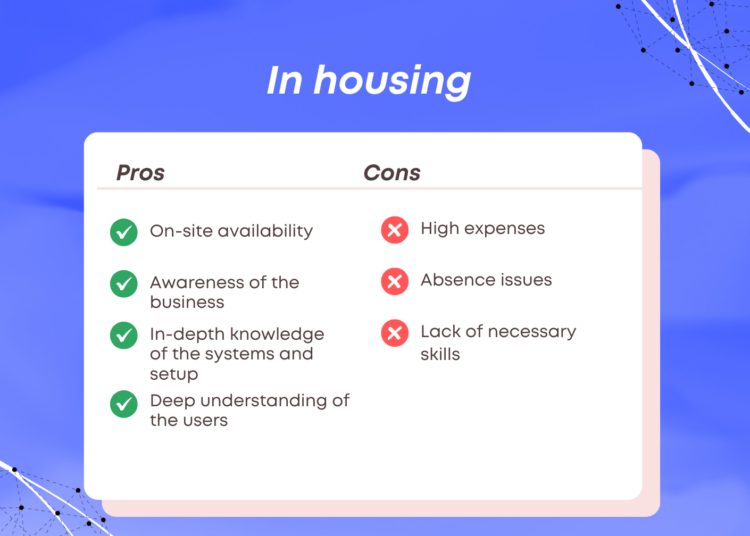 For these reasons above, it will be good to build an in-house team if you don't have budget constraints and need to be in full control.
Outsourcing: pros and cons
The reasons that make owners choose outsourcing from other companies, namely:
Cost-effectiveness: Unlike an insourcing team, a dedicated outsourcing team will save you a significant amount of money. You will not have to conduct a large number of interviews, pay high wages to top in-house specialists, or outfit workspaces. You pay the agreed-upon rate per hour or for the entire project. You also do not have to pay salaries when the project is completed, and the team is idle; the third-party company will take care of all the expenses regarding the engineer, such as vacations, insurance, and managing work resources.
Access to a talent pool: Outsourcing companies provide the possibility of accessing talent with different skill sets and work experience at your request. For the IT industry, it has the advantage of hiring outsource candidates either on a remote or hybrid mode. Many excellent IT professionals work with outsourcing companies because top-tier talents want variety in their projects to promote their professional skills.
Focus on core business functions: You can delegate some of your jobs so that you may focus more on critical business demands, allocate resources for them, and so on. Outsourced engineers are an extension of your team, extra talent to cover all the areas of a project. 
Flexibility: Building an in-house team takes time. Every time you want to employ a new team member, you must undergo a lengthy hiring procedure. Outsourcing work to another firm will assist you in obtaining the resources quicker while still attending to your project's needs.
Faster project delivery: There are many engineers and companies available that can handle a wide range of assignments. It will not be difficult for you to hire a qualified professional who can accomplish a coding task, DevOps implementation, or any other tech-related task you have in mind. In reality, you may find subject matter experts with in-depth, comprehensive expertise that your staff cannot match.
However, for making the best decision for your business, make sure that you are clear about the backdraws of outsourcing.
Management issues: You can be active in the project, but you cannot control everything. Actually, with a reputable outsourcing company, this turns into an advantage as you won't need to control each step, the outsourcing company will be responsible for that and deliver expected results. However, many business owners still dislike delegating key management responsibilities. In this situation, you may employ a dedicated team and seek the assistance of your in-house project manager.
Communication issues: This is not a significant issue in the twenty-first century, but you must be aware of the time zones. With proper management and communication processes agreed beforehand, this issue can be minimized..
Problems with quality: Despite all of the advantages of outsourcing, it is only beneficial if you receive the quality you anticipate. So, you should choose a team wisely from a reputable IT outsourcing firm. Get involved during the hiring process of the engineers, require them to prove their abilities, and cleverly select the best candidates for your team according to expertise and project needs.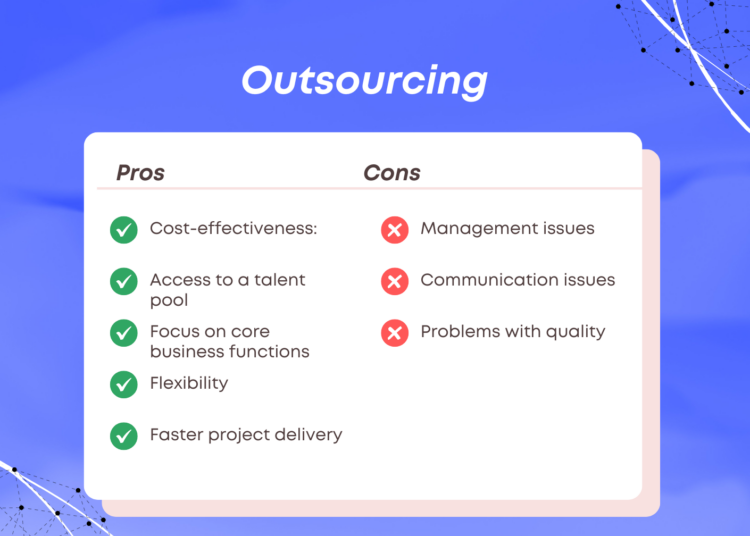 It's better to have an outsourcing team in case you have budget limits with tight launch deadlines and lack of available talent. 
Some statistics of IT outsourcing market
Outsourcing has become a trend for the benefits it brings up. It's proven by some statistics that published by Zippia.com
The global outsourcing market is valued at $92.5 billion, with the U.S. market bringing in $62 billion of the total international revenue

The outsourcing market is expected to grow at a compound annual growth rate of 4% between 2021 and 2025.

Information technology is the leading industry and business department for outsourcing – 13.6% of the average IT department budget is dedicated to outsourced tasks and about 37% of IT tasks are outsourced.

The Top reasons for IT Outsourcing are cost reduction (71%), business transformation (50%) and improving service quality (50%).
SETA International is one of the leading software companies in Vietnam providing one stop software development services with high quality, efficiency and competitive cost and being trusted by international clients for the past 14 years like Amazon, Pfizer, American Airline. We provide IT consultation and IT outsourcing services for AI, VR/AR, IoT, mobile, web and cloud.
If you are looking for a trustful partner for dealing with your technical problem or in need of IT consultant, let's talk to SETA's expert via contact@setacinq.vn